As I mentioned in this post about quilt #1: "I had no plans to make Christmas quilts for our sons in 2016 as I'd made them quilts for Christmas 2015. They both visited in September and independently requested a quilt for Christmas. That put a bit of a panic in my holiday planning, for sure. But I got busy and started work. And now I'm finally getting around to sharing them."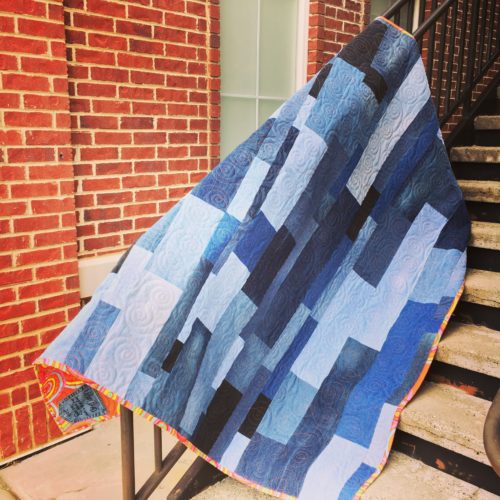 Quilt #2 is a picnic quilt for Brian that he requested for beach trips and concerts in Central Park. I upcycled old jeans I have been saving for quilts and improv pieced them into strips of 1.5″, 2.5″, and 3″. I just randomly sewed together strips in varying lengths until I thought I had enough to make a top, then laid them out, trimmed, and adjusted until I had the look I wanted. I totally love this design much better than squares and since there are never four meeting seams, there is less bulk.
The backing is a Kaffe Fassett backing fabric that is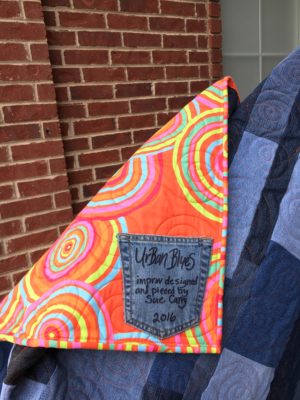 bright and fun to offset the dark blues. I had planned to just fold over the backing for the binding, but a happy accident required me to cut and do a binding the regular way. And with all the concentric circles, it makes a nice, almost striped, contrast to the backing which I really love. So it turned out great even though it ended up being more work than I had planned.
The label is a pocket from a pair of jeans and the machine quilting was done by Linda at Just Sew in big orange circles. I was debating about thread color and when I was in the store filling out the order form I was discussing it with a couple ladies working there. I kept saying I wanted to do orange but was afraid it wouldn't look good. Finally one of them said, "Be bold! Do orange like you want to do!" So I did and I'm very glad because the orange quilting really shows up nicely and gives the front a lovely texture.
Brian was so happy when he opened it on Christmas and is looking forward to good weather so it can have some fun urban adventures.