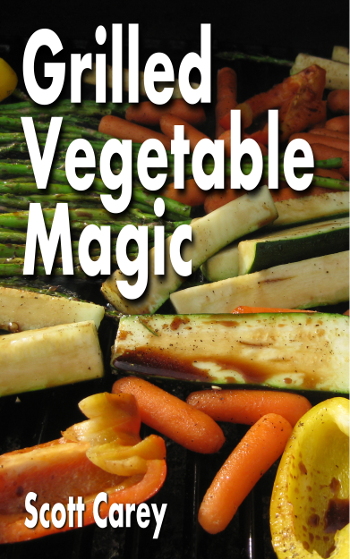 Some of you know that I run another website called Outdoor Cooking Magic where I write about cooking outdoors.  I like to cook on the grill, smoke in my smoker, cook with Dutch ovens, and cook over a campfire.  I put recipes, tips, reviews of products, news, and other information related to outdoor cooking subjects on this website.  I recently participated in the 30 Day Challenge, which is run by a very smart guy named Ed Dale.  He teaches about how to start a business online and make your first dollar.  It's an annual event and I've participated several times in the past years, always learning lots of new things to help with my ventures on the Internet.
This year the challenge was teaching us how to write an ebook that would be put in the Kindle Store on Amazon in 30 days.  I've been working hard the past month and last night published by first book on Amazon in the Kindle Store.  It's called Grilled Vegetable Magic.  It's been a fun process and there is something satisfying about having a product published on Amazon.  Things are so different these days and publishing is truly open to anyone that wants to do it.  I've also started a companion website called Grilled Vegetable Magic where I'll focus on grilled vegetable topics.
My sister, Christine, also participated in the challenge, and is very close to having her book published as well.  She loves to make custom costumes and she has written an awesome book about how to create and design a Halloween costume.  I'll put up another post when she has her book done.  It's pretty timely, with Halloween right around the corner.
I've also brainstormed another 20 similar books that I could write, so that is one of the by goals over the winter, to get several more ebooks written.
If any of you would like to participate in the Challenge, and get that book that you've always wanted to write done and out in the Kindle store on Amazon, they'll be leaving the training material up for another 60 days.  I'd be happy to answer any questions that you might have.