We are still working away on our barn construction and in the last couple of weeks we managed to get two more blocks finished and the barns all sewed up. The Waterturn block was named by Lori Holt as an homage to her Dad's irrigation turns. In the West we live and die by irrigation, so you plan your life around your turn to get the water. It involves opening the gate to allow water into your property for a set amount of time, then closing it again. Since we are both familiar with irrigation turns and have each done our time with them, we knew we had to include this block in our quilts.
Team ShaRee ended up with an awesome block but it came about with some consternation beforehand. Our typical system is to choose the small quilt block for the barn first. Then we choose our fabrics from our scraps and cut them out. We generally also choose the coordinating barn fabrics and cut them as well. Our homework is to sew together the small quilt block and the next time we meet, we sew our barns together. This was our process and Team ShaRee had her barn mostly sewed together and it was darling. Then she came to the step of adding the small quilt block and let out an irritated gasp. She was NOT happy with the way they looked together. We talked it over and being a good quilting buddy I suggested she choose new fabrics and make a new barn, then save that for another block. We went back and forth with idea and the time it would take, but in the end she agreed that we have learned one big lesson in this project. If we don't love it, we're not happy. She didn't want to be annoyed at the quilt every time she saw it because of that one block. So we chose new fabrics, I started cutting and she started sewing pieces together straight from the cutting board. The result? A simply fantastic block that is SO, SO cute. I love mine but I'm a little jealous of how cute this turned out. Serendipity?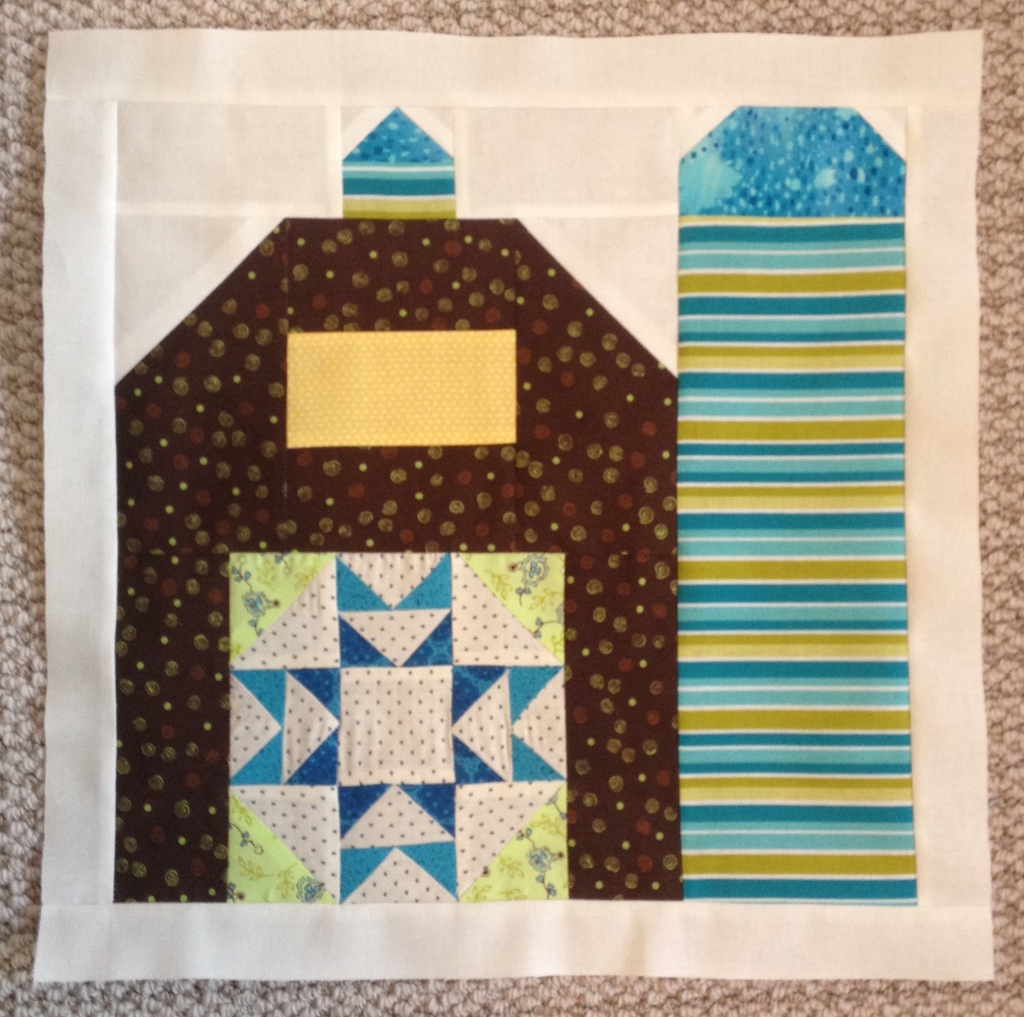 Team Sue
I love that silo fabric and wanted to use it then do the block all in blues for the water. The red and green are in the silo fabric and the yellow window is a nice complement.
Our next block was the Farm Fresh Flower. The block itself is not one of my favorites, because try as we did to make the leaves less obtrusive and the petals the star of the show, the leaves are still quite formidable. But it's a cute block and the barns were built with very little fuss.
Team ShaRee used that cute all-over floral that I just loved on my previous barn and duplicated dots on the roof and the background of the block. So floral and yummy!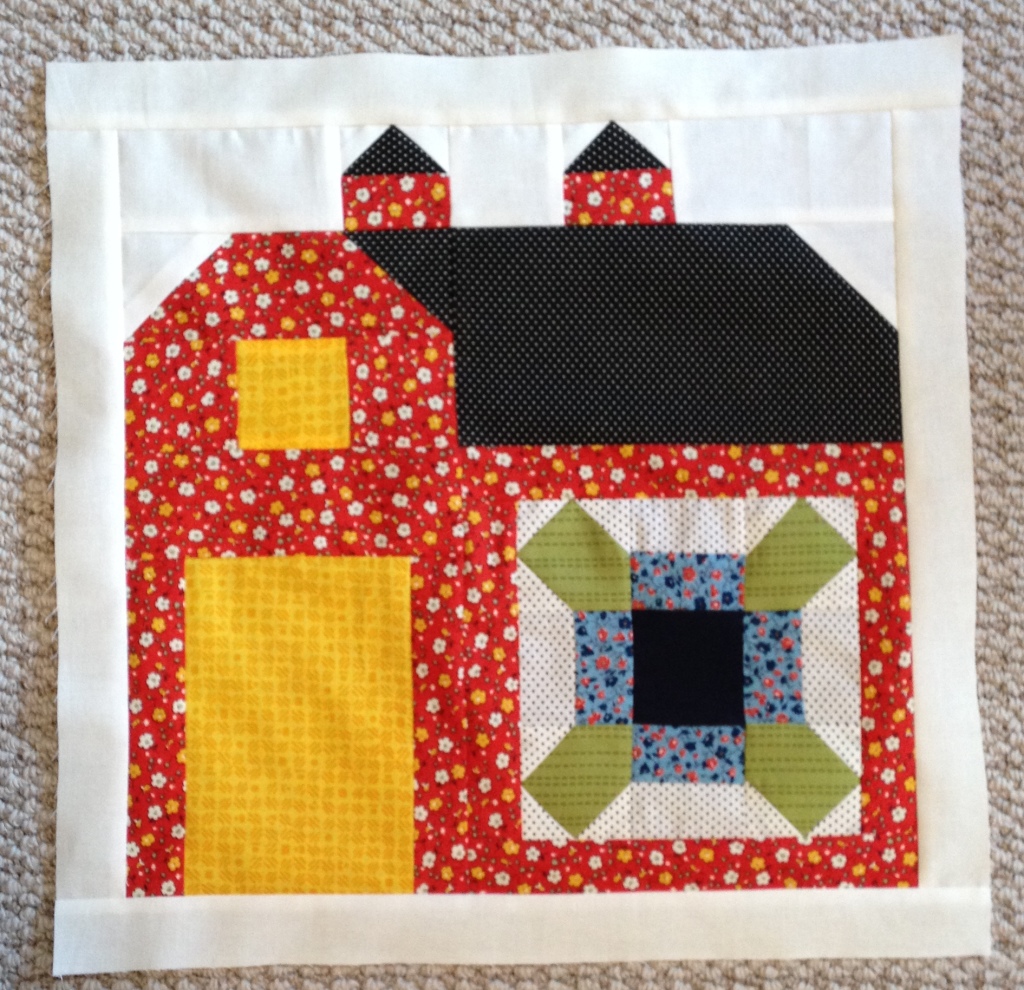 Team Sue used the same background dot fabric and duplicated dots on the leaves and a splatter dot on the roof. The barn choice is a dreamy red swirl I've been dying to use for a barn. So glad I managed to get it used because it's darling!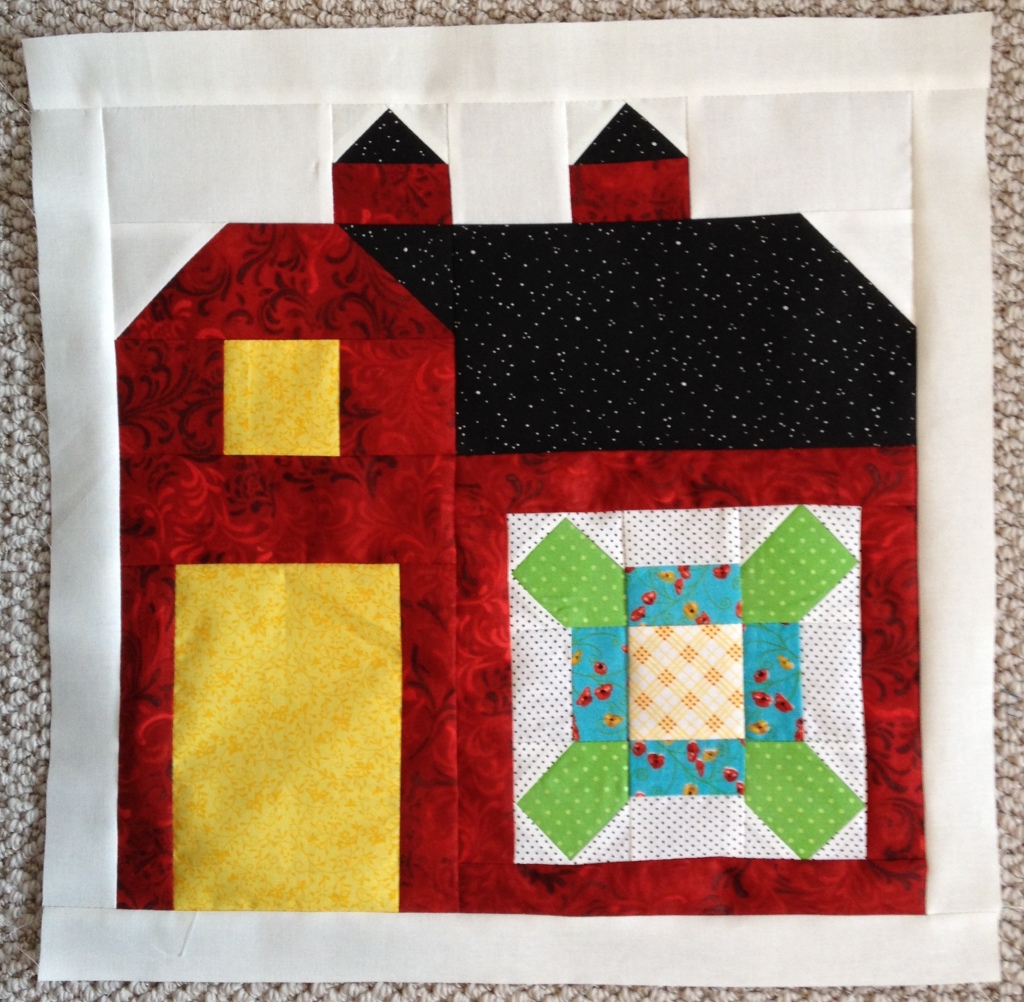 Look for more barns soon. We spent some time at our last meeting looking at colors and fabrics so that we finish up well.