Finally, another quilt finish!  I hate to admit this, but I actually finished the hand-quilting in late fall and it was just waiting for me to sew on the label to call it a finish.  So I did that this weekend and it's officially done and hanging on my landing stairs to celebrate spring!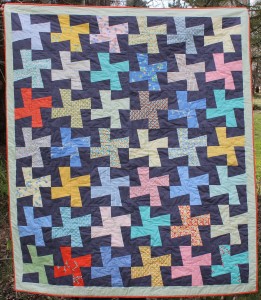 I used leftover fabric to piece the back.  I see lots of online examples of free-piecing the backs and decided to try it.  I like how it turned out.  It gives some variety rather than just a full backing of one fabric.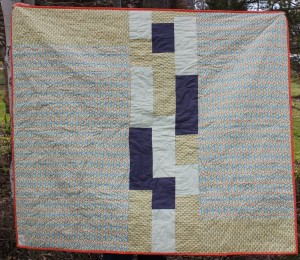 I took a class at my local quilt store on quilting basics 2 years ago and this was the quilt we started for that class.  I learned a lot of great tips and this was a fun pattern, plus my first time using pre-cuts, as this was done with Moda Charm Packs.  And I really love this line of fabrics-they are so bright and pretty!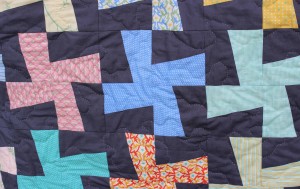 Wild Thing, by Camille Roskelley, copyright 2008 by Thimble Blossoms
Size: 60″ x 68″
Fabric: City Weekend, from the Oliver + S fabric collection, produced by Moda