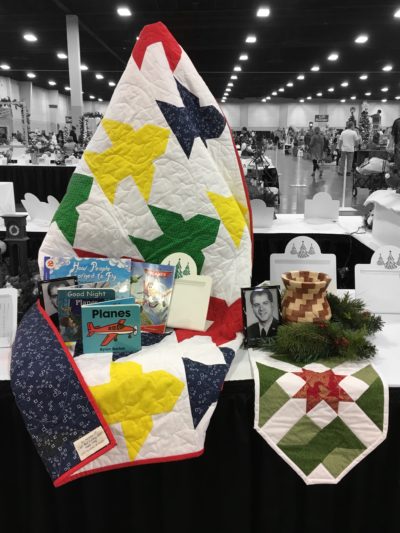 Since our extended family is no longer doing a large tree for Festival of Trees to benefit Primary Children's Medical Center, we are experimenting with different ways to honor Scott's brother, Paul, who was an Air Force pilot. Last year we did 3 small trees, and a centerpiece of a quilt with books. This year I coordinated two separate projects with two different partners. Both sold during the opening auction night so we seem to be doing something right.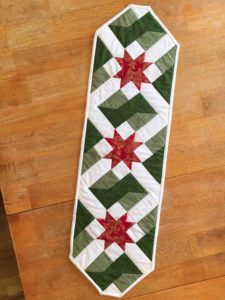 The first was a Christmas tablerunner to showcase a handmade wooden vase made by my father-in-law. The vase is lovely and he worked very hard on it, learned some new techniques, and bought some new tools. I picked out several runner patterns and had my father- and mother-in-law choose the pattern. They liked this one with the stars and the braided look. It finishes 12″x40″. The background, backing, and binding are all from Muslin Mates-Snowflakes White by Moda, the dark green is Irresistable Iris-Tonal Medallions by Ann Lauer for Benartex, the light green is Esprit Maison-Weave Tonal Celadon by Robyn Pandolph for RJR Fabrics, the red is Holiday Joy Batiks-Branches Red Metallic by Kathy Engle for Island Batik. I used the free pattern "Star Crossing Table Runner" by CB Crafty Corner and found on Craftsy.com. I machine quilted it myself on my sewing machine by stitching in the ditch. To display it for auction, I laid the tablerunner, put the vase in the center, and added three sprays of pine & pinecone greenery around the vase to make a centerpiece.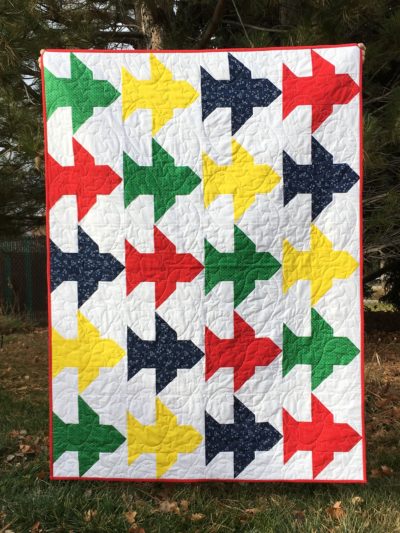 The other project was in conjuction with my sister-in-law and her oldest daughter. We decided on a flying theme and I made a baby size quilt with planes and they purchased flying books to go with it. The pattern is "Planes" by Tiny Seamstress Designs and I decided to go with subtle prints on the bold colors so the planes would read solid, and to piece them each with the same color prints so that the silhouette of the plane would stand out. Since it's in memory of his brother, Scott helped me pick out the fabrics at a local fabric store. We used a white stars on white by Timeless Treasures for the background. The planes were made from Bear Essentials 3-Yellow Circles by P&B Textiles, Wintergreen Asterisks by Lizzy House for Andover, Pixie Square Dot Blenders Red by Ink & Arrow Fabrics, and Curious Dream Midnight by Angela Pingel for Windham Fabrics. We decided on the same blue for the backing and the same red for the binding to tie it all together. I had it machine quilted at Utah Valley Quilting using their Starry Sky all over pattern which is stars and swooping lines connecting them.