I just finished two BYU quilts to add to my stash and give as future gifts. Apologies for the wonky photos. It was snowing yesterday morning and I thought I could do a quick photo shoot with the snow background, but I should have dragged out a ladder and gotten taller.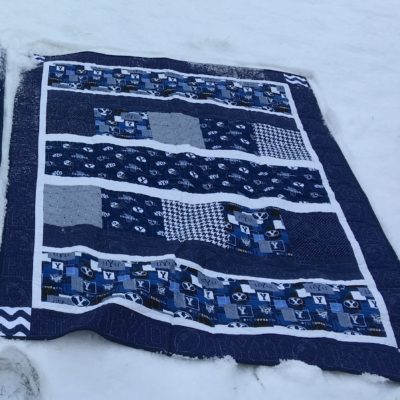 Both patterns are by Bag Lady Creations. The first is the Collegiate Strip Quilt and the patchwork is the Collegiate Quilt.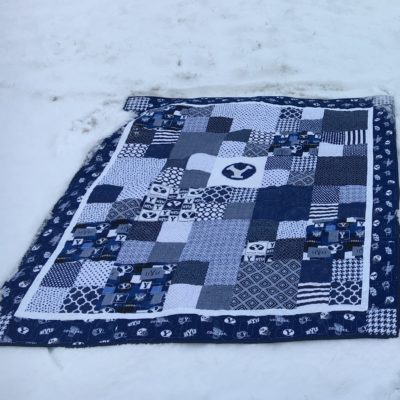 I've made one each of these before and they finish about 53″x66″. As before, I used fabric kits from The Fabric Mill in Orem because it's easy and convenient to have all the fabric matched and ready to go. Then it's just cut and sew it together.
I decided to use BYU Minky on the backs of these quilts, mostly because the sales lady at Fabric Mill talked me into it and it was on sale, so it's the first time I've used Minky. It is very soft and cuddly but makes a mess of lint when cutting and sewing. I was planning to sew on the binding using one of my quilting partners' machines, but opted instead to purchase a walking foot for my machine and do it at home. A walking foot is totally awesome! I now use it to sew on all bindings and it's fantastic. It makes the fabric feed evenly on both sides instead of just the bottom feed dogs moving the fabric, so heavy and bulky seams are easier to sew. The next jeans quilt I make will definitely be done with the walking foot. Why didn't I get one of those years ago? It was $40 well spent.
I had them both quilted at Utah Valley Quilting using their own design of a block BYU with footballs. I used that design on my niece's wedding quilt and it's so fun.
These quilts are #11 & #12 full quilt finishes for the year. Hoping for at least one more finish this month.