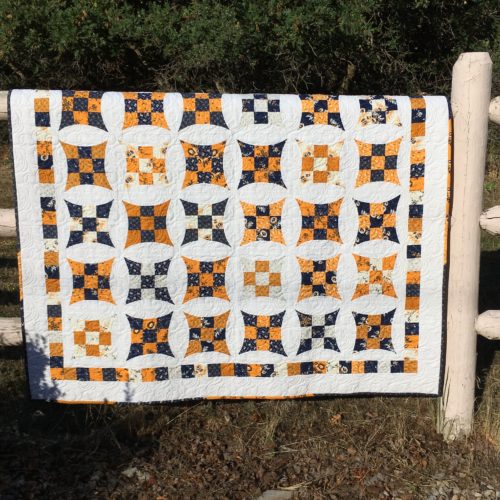 I finished this quilt last night and it's had a long and varied history. A couple years ago Penny Rose Studios by Riley Blake Designs released a line of fabrics called Cheddar and Indigo. I have reversed the color names for my quilt title. This line was a nod to the long tradition of dyes that make these colors and they wrote some interesting blog posts about Indigo dye and Cheddar dye. I fell totally and completely in love with these fabrics as soon as they were released and waffled for quite a while about whether to buy them when I had so many other quilts ready to make with fabric already purchased. While shopping with my quilting partner, she convinced me to go for it and just buy some since I loved it. So I took the plunge and bought some of all the line without a pattern to guide me. (You can probably guess that I now have leftover scraps to deal with!) I kept the fabric for a month or so and was on a quilt shop hop when I received the free pattern for the hop at Pine Needles and knew that was the perfect pattern to show off these fabrics. It is called "1940's with a Flare" by Sandra Workman of Pine Mountain Designs and features the Quick Curve Ruler, which I purchased then and there. They assured me that with the ruler and their online tutorial I could master the curved piecing in no time.
I used the Cheddar and Indigo line from Penny Rose for all the colors in the quilt, and P&B Basics-Ramblings 10 by P&B Textiles for the white. It has a delicate flower and leaf design in white on white. I originally thought I would make the quilt smaller and bought less white than called for in the pattern. When I finally got around to making the quilt, I had totally forgotten that and since I had so much of the patterned fabric, I cut and cut everything called for on the pattern. Or so I thought. It wasn't until I was almost done sewing the blocks that I realized I didn't have enough white and had to go on a frantic online search to purchase more of the same white. That's when internet fabric shopping is so awesome. So the quilt ended up about 54″x63″ as indicated in the pattern. I had it quilted at Utah Valley Quilting using their Eternal Flame design.
The back was modern improv pieced by me using leftover fabric and a large piece I got on sale later to use for backing. All fabric is from the same line except a couple pieces of darker cheddar from another manufacturer.
This is the eighth finish for 2017, the year when my One Little Word is CREATE. (And that's a shadow from a bush in the lower left corner!)