During January we finished all the pieced blocks and had three applique blocks left. The first of these is #40 Friendship Dahlia. We chose the fabrics, traced and cut the patterns, fused the webbing to the fabric and got them all fused to the 9×9′ background. Then it was time to do the blanket stitching on our machines. We all chose different fabrics and centers and when it came to thread color, there was a fair amount of debate. In the end ShaRee and Terry opted for blue and brown, matching their center circles. I did white to contrast with my black center. None of us wanted to do all different threads as we thought it would be too distracting. Once we finally did all the prep work, it took some time to sew and we ended up finishing the next week when we did all of the next block.
ShaRee Block #40 Friendship Dahlia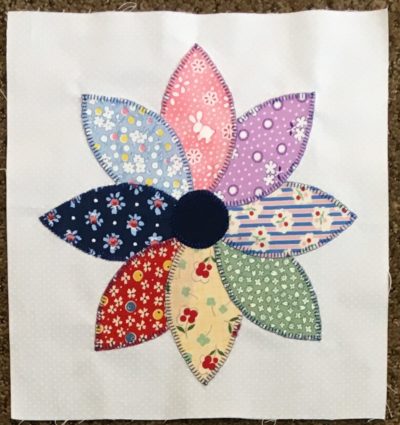 Sue Block #40 Friendship Dahlia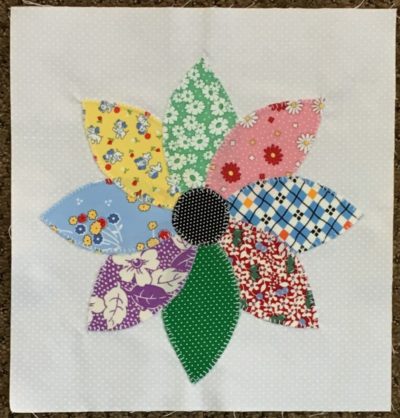 Terry Block #40 Friendship Dahlia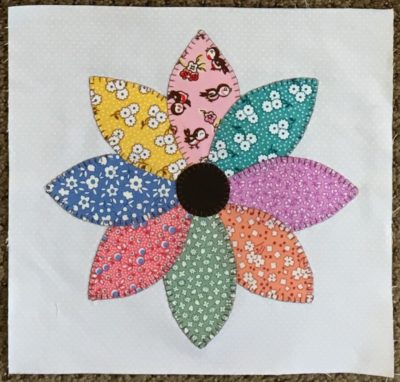 Block #41 Mary's Fan caused us some consternation in how to work the applique as we wanted to do the entire quilt consistently with machine applique and the pattern called for hand-turn. So we debated many ways to do it and finally decided to cut the fusible web the pattern size, fuse it to the fabric and cut it out with a seam allowance, then sew the blades of the fan together, peel the paper and fuse the entire thing to the 6×6″ background. This worked like a charm and we were happy with the result. Then we fused the handle and machine appliqued the handle and the fan edge. Cute!
ShaRee Block #41 Mary's Fan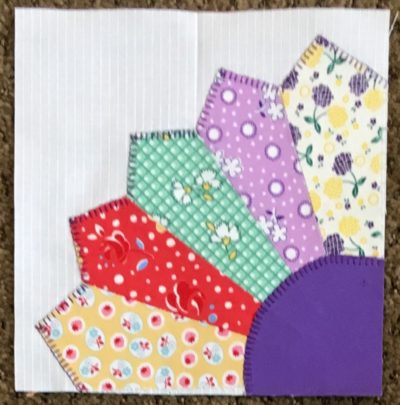 Sue Block #41 Mary's Fan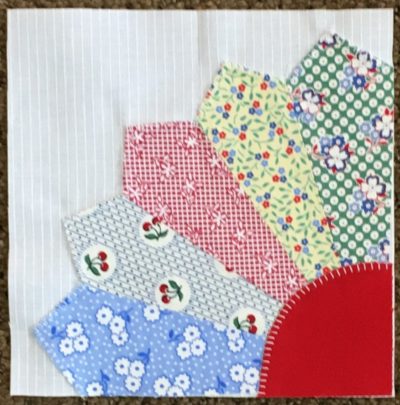 Terry Block #41 Mary's Fan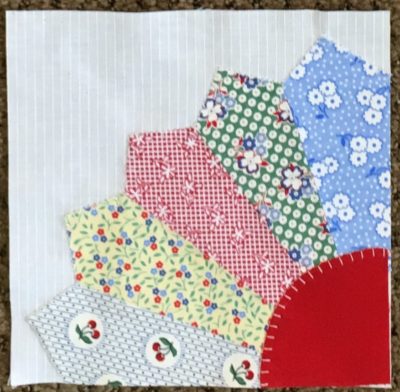 At the beginning of February we did the last block! Finally!! Block #42 Dresden Plate which we did the same as the fan with seam allowances, then applique. We still had some time left after we finished, so we began constructing the top by sewing together a few blocks. It felt really good to finally be putting some blocks together.
ShaRee Block #42 Dresden Plate

Sue Block #42 Dresden Plate

Terry Block #42 Dresden Plate