Lest you think Scott and I are building a barn in our backyard, let me disabuse you of that notion right away.  Instead, my quilting friend and I are "building" fabric barns.  Eight of them to be exact, plus four barns with silos to be put in a quilt that will hang somewhere in our respective homes.  But that's down the road.  For now, we have built barn number one.
The idea is to create a barn with a quilt block "painted" on the side like many families have done throughout the Midwest and upper Midwest.  We got the instructions from Lori Holt of A Bee in my Bonnet, who posted it as the "Quilty Barn Along".  She took down the instructions in December but we had decided to start the quilt this year, so I copied all the tutorials and instructions down from her blog before they disappeared.  We began with a trip to our local quilt store for the white background fabric and a few red fat quarters for the barns, but the rest of the quilt is meant to be a "stash buster", where we use fabric pieces we already own.  This has also been a goal of ours-to make some stash quilts, although she has more of a stash than I do, so her stash is going to get busted more than mine.
Our first block is the "Chicken Foot" block.  Every farm should have chickens and these are scattering in every direction.  The quilt block is a 6″ square on the side of the barn and those triangles were small, especially since it was my first time making half-square triangles.  The whole block is a 16″ block, so the quilt is going to be large.
Lessons learned: my seams are a scant 1/4″ so my block ended up too large and her seams are a generous 1/4″ so her block ended up too small.  We need to adjust our 1/4″ measurement because a small variation makes a big difference, especially in the 6″ block.  Some of my barn pieces ended up a little crooked as I tried to adjust the size.  So…….the next one will be better, but overall, we are pretty darn pleased with ourselves.
Team Sue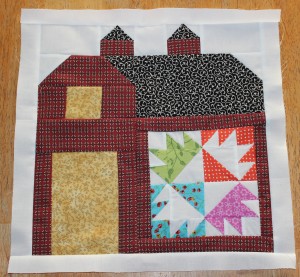 Team ShaRee