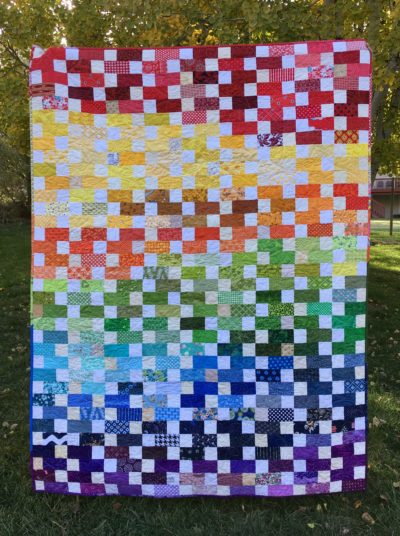 This is my Rainbow Interwoven quilt. It uses the free Moda BakeShop Original Recipe: Interwoven by Material Girl Quilts. I finished another version of this pattern earlier this year in the pattern size, but this quilt I wanted to be a larger lap size, so I added width and length to the pattern to make it larger. This looks like a scrap-buster quilt and I did use many fabric pieces from my stash, but I also purchased many fat quarters of colors I needed to round out the quilt and they are currently cut into 2.5″ squares for other projects, plus some more 2.5″ x 4.5″ rectangles to make another one of these for charity at a future time.
I laid out the top in spectrum order so that the rows look like a flowing rainbow. I am currently in love with spectrum quilts and have plans to make several more. 🙂 The low-volume squares are scrappy creams, whites, and light tans so the overall effect is very colorful. I made this quilt using my favorite Leaders & Enders technique, which means that as I worked on other projects, I sent a rectangle & square through the machine and piled them up. When I had a bunch of each color done, I started laying it out on my design wall, then sent through a pair of the pieces as I worked on other projects, added it back to my design wall, and gradually had partial rows sewed together. When I had quite a lot of sections finished, I finally focused on the quilt and sewed the rest of it together to get it finished and off my design wall so I could fill it with something else, because there's always a new project waiting to be laid out. And that's how all of a sudden, a quilt comes together.
I had it quilted at Utah Valley Quilting and chose the "Asian Leaves" pattern using white thread. I really love the delicate texture it gave to the really straight-lined top. Below is a close-up of the quilting. So there is another finish for 2017!