I began this quilt at the St. George retreat I attended in January 2015. It was taught by Melissa Corry from her book, Irish Chain Quilts and I got one of each block type made during the retreat. Plus a photo opp!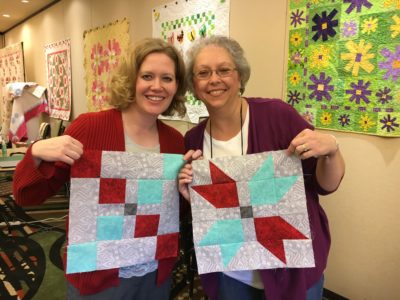 Then it languished for a long time as other projects came up and I had to gifts to make, plus quilts for Festival of Trees that benefits Primary Children's Medical Center. So along about the fall I decided to make this quilt a semi-priority and get it done. I got it all out, remembered how it worked, and then did many of the blocks as Leaders & Enders while working on other projects. It's amazing how much you can get done while sending through one additional seam after every seam you're intentionally working. All of a sudden you have enough little pieces sewn together to make a whole block! That's basically how this quilt ended up going. When I had a bunch of almost-blocks ready, I focused and sewed together a bunch of blocks, laid them out, and started sewing together some rows. And the quilt magically came together.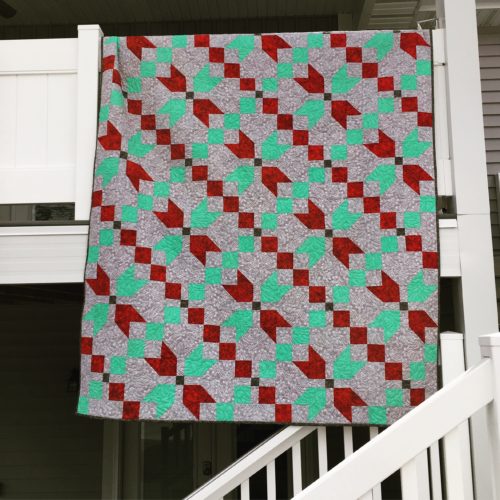 It's an Irish Chain variation called "Two Paths Crossed",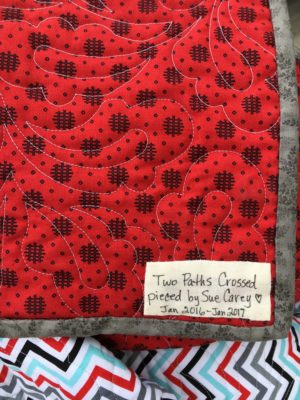 as the reds and greens line up into chains across the quilt. The green is Dapples by Free Spirit for Westminster Fabrics and the red is Essentials by Wilmington Prints. The gray background is a fleur-de-lis type swirl called Jams & Jellies by Jill Finley for Henry Glass & Co., and the small square centers and the binding are Atelier by 3Sisters for Moda. It was machine quilted with gray thread using the Drop of Paisley pattern by Linda at Just Sew.
I had some extra blocks so I laid them diagonally across the back, cut strips of the chevron fabric, Remix by Ann Kelle for Robert Kaufman, to fit on each side, then cut border strips of the red for the top and bottom. So there it is! This is destined to be the quilt for the downstairs guest bedroom.
I really enjoyed meeting Melissa at the retreat and learning some of her strip cutting and piecing techniques that were applied to this quilt. It took me a year and I have more to finish from that retreat, but here's the first!