I had no plans to make Christmas quilts for our sons in 2016 as I'd made them quilts for Christmas 2015. They both visited in September and independently requested a quilt for Christmas. That put a bit of a panic in my holiday planning, for sure. But I got busy and started work. And now I'm finally getting around to sharing them.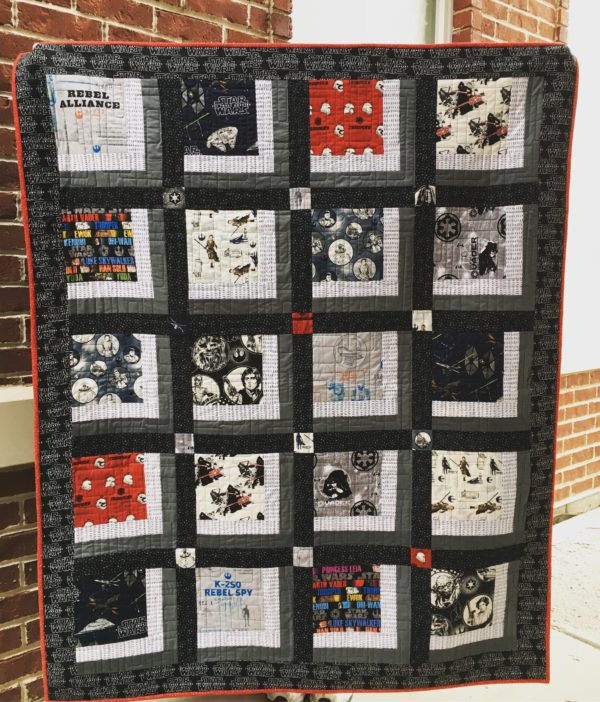 The first is called "Star Wars: Past & Present". New lines of fabric had been released for the "The Force Awakens" and was readily available but Mark grew up with the original trilogy and is a fan of all the films. (Hence the request for a Star Wars quilt). So I scoured the interwebs for classic fabric pieces and found them in a variety of Etsy shops. The pattern is called "Groovy" from Quilt Etc. in Sandy, Utah that I was given during a shop hop. The fabrics used are a charcoal Peppered Cotton, and Thicket Dashes from Gingiber for
the log cabin sides. The sashing & large backing pieces and the binding are Starlet Black Star and Red Star respectively, from Blank Quilting. The border is "The Force Awakens" from Camelot Fabrics, along with the large squares from their various Star Wars collections. I fussy cut all the large squares to show the pattern to best effect and in the case of the badges, to show different characters as much as possible. Also the classic word squares are slightly offset to show different names at the top and bottom. I also fussy cut the cornerstones to show off a character or symbol. I really love how that little extra effort turned out. Those cornerstones really pop!
I like pieced backs and also wanted to use up the licensed fabric because I didn't think I would really use it another quilt. So the back is very heavily pieced and I totally improv pieced based on the remnants I had left. The fussy cutting on the different fabrics left me with lots of odd sized pieces, but I managed to make it work. It was machine quilted at Thimbles & Threads in Draper with gray thread in a digital box style with curved corners that softened all the squares but stayed in the theme.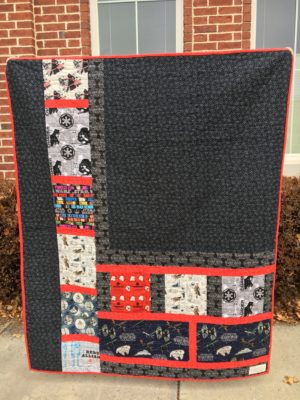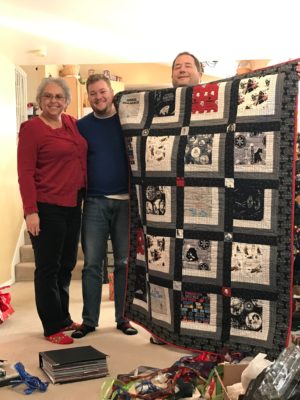 Turns out Mark hadn't really expected me to actually make it between September and Christmas, so he was really surprised to open the box. But he LOVED it!!