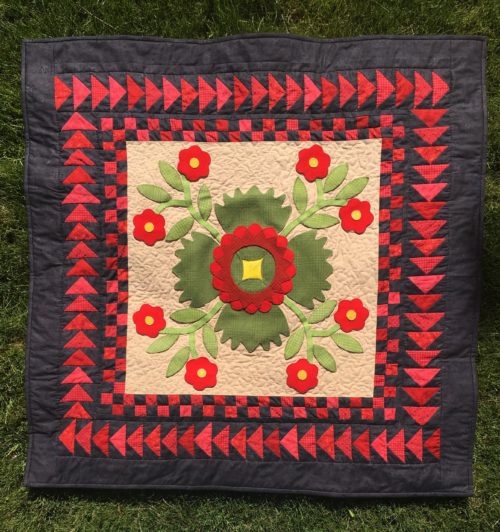 Remember that quilt retreat I attended in January of 2016? Well, I'm still finishing up projects from that and this is one of them. I wanted to learn wool applique techniques so I took this class using the "Faded Blooms" pattern from Quail Valley Quilts, taught by the designer, Krisanne Watkins. During the class we learned about good techniques and traced and cut out most of the wool design in the center and pressed some of it on the tan piece. I started the applique when I got home and finished up the top in pretty good time, then left the border piecing until the end of the year. Finished that up and spent most of my handwork time this year doing all the quilting on it. I did a really tight stipple on the tan and then quilted in the ditch around the checkerboard section and along the long side of each of the flying geese to make them pop. I wanted the focus to be the center so I didn't do a quilted pattern on the pieced borders. Because of so much handwork with the applique and quilting, this project took a really long time. Note to my sons: this doesn't go to the thrift shop when I die!! 🙂 It's an heirloom for someone who might like it. Today it went on the top of my Dad's piano but won't stay there forever as the sun will bleach it. But it looks great there for now.
The tabletopper measures 40″x40″ so it's large. The top is pieced with random red fat quarters I picked up and I don't know the provenance of the black background. The backing is the red with black vine and is called "El Gallo" by Deb Strain for Moda with the binding the same black as the front background.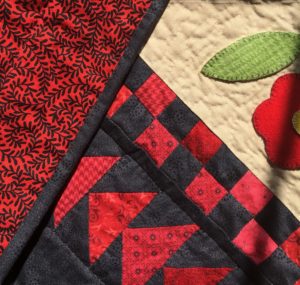 I am glad to have finished this and found out that wool applique is super fun and I like doing it. With this finish in hand, there is one project left from retreat to do. I might get to that later this year.