In September of 2015 we began making these quilts together. You can read about the start of the project here, and the posts about the individual blocks below.
Flag & Sun; Fields & Trees; Barn & Trees; Trees, School, Bounty & Fences; Mountains & Church; Houses; Finished Tops
We also have a Pinterest board that displays all the photos.
We gave ourselves some time to get them machine quilted after all the work of piecing. ShaRee had hers done with high loft batting by Heidi. Terry's was custom quilted at the Corn Wagon Quilt Co., and mine was quilted in a swirl and star pattern at Thimbles & Threads. Our goal was to have the binding finished and ready to display at the Alpine Days Quilt Show on 12 August 2017 and we managed it. It was so fun to see all our quilts hanging there and overhear the comments from people attending the show. (People liked them!) We are still finishing up borders on our other big project that was worked simultaneously to this one, then we plan to do some smaller projects like the fall tabletopper/wallhanging we did a few months ago.
ShaRee's masterpiece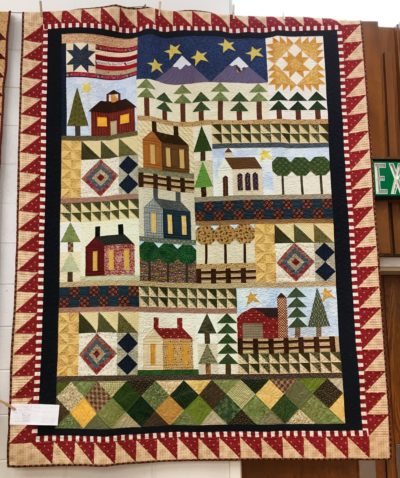 Sue's masterpiece; my backing is all textual states & their mottos with a strip circular text fabric containing lyrics to "America the Beautiful" and is called Freedom by Sweetwater for Moda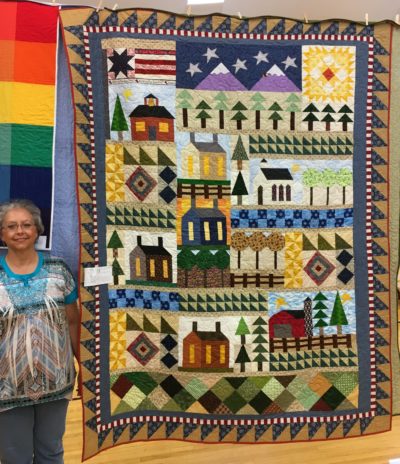 Terry's masterpiece